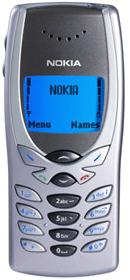 There's more to the new Nokia 8250 than meets the eye. It's not just the electric blue display, or its sleek, streamlined looks. It's also a spectrum of stylish, state-of-the-art and thoughtful features that let you connect to life.
Designed for Convenience
Slips into your pocket - small and lightweight
Enhanced visual clarity courtesy of the bright blue backlight
Chinese phone management features including phonebook, send/receive SMS and SMS chat
Reduce instances of missed calls or messages thanks to the internal vibration feature
Ergonomically designed keypad for easier dialing and management
Wireless Solutions
Make a statement about yourself with the stylish range of user-changeable Xpress-OnTM colour covers
Personalize your phone settings with the downloadable profiles, screensavers and ringing tones
... more at NOKIA
* Other product and company names mentioned herein may be trademarks or trade names of their respective owners.