Tear-Jerker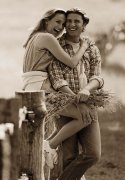 Love s so easy 2 fill, so hard 2 explain; so easy 2 get, so hard 2 let go; so easy 2 spell, so hard 2 define; yet evry1 still taking d risks

Love can never b forced or created if it was never meant to b there at all nor can b destroyed if it was destined 2 survive

Hw I wish me n u will b 2gether, hw I wish you'll leave me never, hw I wish my arms r around your shoulder, hw I wish me and u will last 4ever

I herd sum1 whisper your name 2day, but when I turned around 2 c who it was, I noticed I was alone. that's when I realized that it was my hart telling me how much I miss u...

"Love may leave your hart like a shattered glass, but kip n mind that there's sum1 who'll b wiling to endure d pain of picking up d pieces so u cud b whole again.

Who r u 2 bother me so much? Who r u that cant make me slip at night? When I hear your name my hart pound, I dont know what 2 do, God help me I think I'm falling in love w/ you

Its not always d person who tells u nice things who's your friend. Often d 1 who cares enough 2 tell u d truth even f it hurts, s d 1 that cares d most.

"Lövé ìs nöt énüf 2 mké süm1 ürs, ü nìd süm1 hüs gönnä b dér 4 ü öl d tym, süm1 hù wüd tréät ù béttér, süm1 hü cüd c ü thröügh, süm1 hü wùd névér säy GÜDBYÉ.

it breaks my hart 2 c d person I love happy with sum1 else but it breaks my hart even more 2 c d person I love unhappy with me

I'm afraid to know u for I might like you, I might wanna hold u always. if I hold u, I might not learn to let go when I already know that there's somebody holding your other hand.

u dont tell your hart not 2 fall n love, that's y its hard falling n love... u just fall, dont fight d filings, u just go with d flow n b glad love found u...

it took me a long tym finding u, you're sum1 I want 2 b with after death. and f I find myself n heaven without your hand... ill go searching 4 u all over again...

I said hello you didn't mind.. I offered my shoulder.. you took me for granted. I said I love you.. you didn't mind.. so I said goodbye, but you told me wait...
Never expect love to be always at its best coz if you do, you'll never appreciate its existence. Remember that there will always be one true love for you to have and hold. It may not be the one you expect but its the one you deserve.

Tell me you hate me, with me you're always blue, it hurts if you dont tell me, you know I suffer too. Just tell me you're crying and with me you feel so low, just tell me you dont love me and softly ID LET YOU GO...

Love is something special, a treasure I want to find... to others, love is blind but for me, its not true, coz when I fell in love... I saw you...

People seldom say I love you and when they do its either too late or love is gone but when I say I love you it doesn't mean you have to stay but I wish you'll never go away...

QT: If I tell u "I love u," u will think m lying. But I'd rather tell u I love u & let u think I'm lying than say I dont love u & know for sure that I'm lying.