Love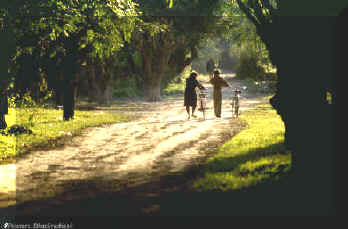 Love is created not by words but by feelings, not by humans but by hearts, it is better expressed in deeds than in words. For LOVE has no definition only EXISTENCE....

Never expect love to be always at its best because if you do, you will never appreciate its existence. Remember that there will always be one true love for you to have and hold. It may not be the one you expect but its the one you deserve.

Love is supposed to be the most wonderful feeling. It should inspire you to give you joy and strength, but sometimes the things that give you joy can also hurt you in the end.

L0V!NG S N0T B0ÜT HÜGG!NG SÜM1,N0T B0ÜT K!SS!NG THERE L!PS 0R H0LDNG THERE HÅNDS BÜT B0ÜT PLÅC!NG THÉM & KÉÉP!NG THÉM !N YOUR TH0ÜGHTS & N YOUR HÉÅRT.(';')

Love works in magical ways but never be fooled by the promise of 4ever. there will come a time when the spark will die and when that times comes, we must learn to let go no matter how painful.

Loving someone may mean sacrifice and pain but if the person i am to love is you, i would rather embrace pain and sacrifice than not to love you at all.

Love with your eyes open wide. Love can never be wrong; it's the people, time and place that go wrong learn from your mistakes and your achievements as well. Don't correct a mistake with another one.

In the course of love, ones heart must be brave, brave enough to hold on when things do wrong and brave enough to let go when they realize that things are not meant to be!

Love s so easy 2 fill, so hard 2 explain; so easy 2 get, so hard 2 let go; so easy 2 spell, so hard 2 define; yet evry1 still taking d risks

Love can never b forced or created if it was never meant to b there at all nor can b destroyed if it was destined 2 survive

Love may leave your hart like a shattered glass, but kip n mind that there's sum1 who'll b wiling to endure d pain of picking up d pieces so u cud b whole again.

sometimes w cant have everything we want n life at times we end up losing d 1s we love n ways we never imagine we have 2 accept tings & learn 2 live w/ d pain 4 d rest of our life

don't find love, let love find u. that's y its called falling in love coz u dont force yourself to fall, u just fall

LÖVÉ is the sunshine that lights the heart within. LÖVÉ is the pathway that leads to dreams come true for LÖVÉ is the blessing of knowing you.

Lövé ìs nöt enough 2 make süm1 yours, ü need süm1 who's gonna b there 4 ü all d time, süm1 who would tréät ù béttér, süm1 who cüd c ü through, süm1 who would never säy GÜDBYÉ.

Love is something special, a treasure i want to find... to others, love is blind but for me, its not true, coz when i fell in love... i saw you...

Learn to love the people who are with you at present. Forget the people in the past and thank them for hurting you which led you to love the people you have right now.

saying I LOVE U s a major decision n 1s life, dos words should b kept n your hart until you're ready 2 commit, 2 fight 4 that filing n 2 stand by those words 4evr!

i 1dered what my life would b f there was no u. f u were not there 2 love me & inspire me, i guess i would not know an almost perfect girl like u can exist n this world & teach me what love really is...

I'll start with I then flourish everything with LOVE... until forever takes me away from YOU.