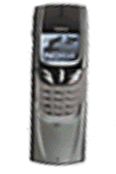 The first Nokia world phone
The Nokia 8890 operates in both the GSM900 and GSM1900 networks, which means you can make and receive calls across the world in Europe, Africa, Asia, Australia and the Americas. *

Automatic network selection
No matter where you are in the world, the Nokia 8890 can select the correct network automatically.*

Advanced wireless solutions
The Nokia 8890 has an infrared link for wireless communication with a compatible Nokia phone or a compatible PC or printer.
...more at NOKIA
* Other product and company names mentioned herein may be trademarks or trade names of their respective owners.